This thing has been around with me for over 40 years. Many times and with every move I attempted to discard it. Yet each time the thought would enter into my head that it was time to get rid of it, I would be filled with a sense of "not yet". I could not let it go.
Over the years it has been used to hold books, and magazines----the rustic country look was in style. Other times it was stood on end and became a plant stand. Then marriage and a daughter came along. The crate was tucked into the corner of the living room and put into use to hold stuffed animals and toys. When I learned to quilt and accumulated scraps, it turned into the scrap bin. When my scrap collection out grew the crate, it was once again re-purposed to corral batting pieces.
For the last few years, my crate has sat forlornly in the garage. It is quite rickety now and not as sturdy as it once was. I think it has just a little more life in it..... holding doll quilts!!!
Yep, more doll quilts arrived. This collection is from Margaret and the Fiber Friends group in Landrum, SC. Beautiful and soft flannel . This pair is so nice and one is trimmed with ribbon and the other with eyelet.
So what's in the crate? Memories.....from where my journey began to where I am now. It reminds me of the road I have traveled, and the things I have learned. I see function and purpose etched into the battered wood slats. And ultimately I know that it is not what you have, but rather what you do with what you have. Cost of the crate--- $0. Worth of this crate---priceless.
Insight:
I won't even think about discarding the crate again. I'll leave that to someone else for later. For me, I am very thankful I listened to my heart and kept the crate around to store the memories in.
The Christmas Quilt Show
begins in a couple of days.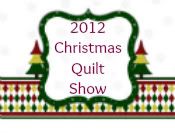 Be sure to check out the details and join in. I'm entering a special friend ;)
Happy Thanksgiving to you all. Happy stitching.