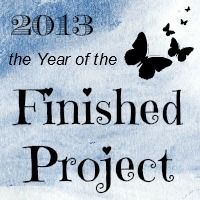 Click
Here for the Finished Project Challenge .
Lynne's 2013 challenge is also challenging me to create a plan of action for the month. I have to post or list the UFO or WIP that I am focusing on for the month, so that means I have a direction to work towards. No flying by the seat of your pants or taking off on a whim for the entire month---both of which I am known to do a lot. So this is a good thing!
My basic operational guidelines----no rules here---to keep UFOs under control:
There are 3 big projects at a time allowed in the sewing room. Stage 1 is being cut and pieced. Stage 2 is sewn and ready for borders. Stage 3 is ready to quilt.
If I am piecing a project, I do not cut or begin a second one until the current project is sewn together. This motivates me to keep sewing and piecing, etc. and get to the next stage.
A new project may consume me and move beyond a prior project that is waiting for borders or quilting. But the rule is still only 3 big projects at a time.
Small projects---like mug rugs, or doll quilts, or small gifts--- that can be finished in an afternoon are an exception. They can jump in the mix anytime.
The plan for January is easy to figure out....it will be the WIP of the mystery quilt. I have it all cut, I hope, and got 3 large blocks pieced yesterday. It is bright and cheerful, but I am hoping that the fabric I ordered for the border will help tone it down just a little bit. Anyway, piecing on the blocks to get it to flimsy stage is the plan.
And I did get the sewing room picked up and cleaned yesterday. Low and behold, I found a UFO from last spring. It was a small project I was working on last year just before my fall / step in the hole event. This was to be a birthday gift......so it needs to be completed and given this year for sure. It only needs a few more applique pieces added and then quilted. Hmmmm.......lots of open spaces for some quilting, maybe some of those curling feathers.
Yikes, I forgot....I am to teach beginning free motion quilting this month, too. I need to get my samples together soon, like today!
And last in the plan is to plan / design / decide on the guild challenge quilt with the "ugly" fabric. I have reversed course on this yet again......back to original idea of the vertical strip quilt with applique. Good thing I did not start or cut any thing yet. I can at least begin hunting for the applique designs I want to use and get them organized.
This sounds like a full month already. Hope you take the challenge to finish something this month.
One last item to share. There's a new
Neighbor Tour over at Stitchin By The Lake
. Each week she will be posting 10 blogs to visit, browse, enjoy and discover as a new neighbor. This is a clever idea I thought for visiting some new blogs.
Happy stitching.