From Cluck Cluck Sew
I ran across this pressing tip for getting flat seams at
Cluck Cluck Sew
recently. Now, I knew the principle of using a wood clapper to set seams----of course my clapper has long disappeared. But a magazine could do the same thing? I was not a believer until I tried it.
I had a stack of 2 patches that needed to be pressed, so I pulled a magazine out like the tutorial said. I pressed, covered the hot units, and waited a minute to let them cool. Sure enough the seams were much flatter and stayed that way when I moved them. Now, I have added a magazine to my pressing basket.....this is one hot tip.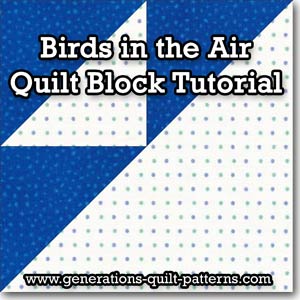 This site has a great tutorial on Birds in the Air quilt block, and it is in multiple sizes.
See it here.
There are also instructions for paper piecing and extra variations of the block.
Be sure to visit the source link before pinning.
Happy stitching.