I was just beginning a post on Monday, when we lost power. Ugh! A tree took out a power line. We were prepared for it, but being prepared physically is not the same as mentally being able to get through it.
First, my brother arrived Saturday afternoon from Naples. That is right, Naples. Destroyed and devastated. He will be here a couple of weeks....of course, I might have to hog tie him to keep him from going back. His apartment survived he heard, while others in his area were flattened or blown out. The worse news he has gotten was from the Sheriff's Office report that the electric grid has to be rebuilt (no power), there is no safe water and all must be boiled even to bathe, and no gas for residents. The report suggests residents stay put, stay out of the area for a few weeks until some semblance of order is restored.
Thank you all for prayers for him.
No power for 36 hours is a minor inconvenience I know when I put it in perspective to what others are facing. It made me think about the life style we have with all the communications, and equipment to make out life easier. No sewing....I don't have a crank machine. I needed to press a few blocks.....no power for an iron. The wind was blowing/howling all day Monday, and through the night....that meant little sleep, and I was cranky Tuesday.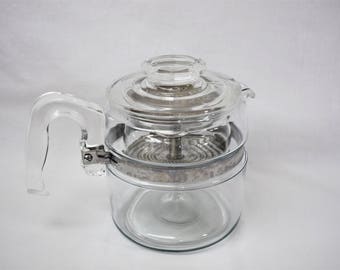 Luckily I held onto an old Pyrex coffee pot that makes wonderful coffee on the gas grill! So I could put on a brave face. The gas generator (for the freezer and refrigerator) was so loud and noisy, I was glad to escape to Physical Therapy for a session......lots of stretching as the low barometric pressure produces more intense muscle and nerve pain.
A salad for dinner along with a grilled sandwich and it was almost dark and time for bed.......8 pm! Lol....candles and a lantern do not produce enough light to read by no matter what history says. We think we are tough now a days, but I have news for us......we are really spoiled.
And then the morning comes.....relief the power has been restored by those wonderful power company workers. A hot shower and a brighter day......communication and news. I do have a lot to be thankful for.
Happy stitching.