Before I share some finds, here is a peek at where I am with the plumes. I need to add and fill in a bit on the bottom corner. The bottom side needs some darker ones added and I think it needs just a little more height. The upper corner is just about right. Thanks to everyone for your comments and suggestions......each one helped my direction on this. I will be quite busy stitching these down, as I got a little plume crazy. I have a friend who is facing a major health crisis and I think she will need some comfort.
For your weekend fun, here are a few finds.
Another label idea was shared with me from Sylvia.. This is from
Sewcanshe blog.
A folded corner label plus an additional corner label with extra info equals a quick way to hang up with a dowel. This is especially great for wall hangings.
I have been waiting for this tutorial! From
Vrooman's Quilts,
Sharon shares her house block in tutorial form. She has made them in all colorways, and each one is so cute. A couple of these and those trees from last week would be a great banner.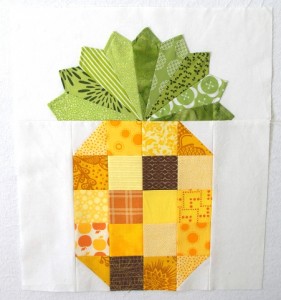 I love this pineapple block. I found this at
Havelssewing and it is design by Beth Novak.
Four of these blocks make a wall hanging....perfect for the season. An excellent tutorial for making the block.
I started a new board just for Orange peel/pumpkin seed quilts. I am collecting ideas.....and that's enough of a hint.
From
Crazy Old Ladies blog
. The quilt is great and so is the tutorial to make the "peels" using fusible interfacing . I have used this technique before and it works great....especially for larger applique pieces like these.
As always, please visit the links for details and for pinning.
I will be cutting plumes, and stitching away, enjoy your weekend and the sun!
Happy stitching.